Every morning we serve up breakfast favourites for young and old, early birds and late-risers. Our bread is freshly baked, the eggs come from outdoor-reared hens, and the coffee is steaming hot. Rise and enjoy at your leisure!

Klicka här för svenska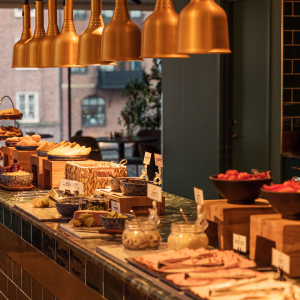 Seasons
– breakfast buffet for all tastes
Pancakes, creamy scrambled eggs, juices and lots of other tasty treats to start your day can be found at our Seasons breakfast restaurant on level 2. Sometimes when we're extra busy with guests, we serve hotel breakfast at several of our restaurants. Call in and our head waiter can tell you more.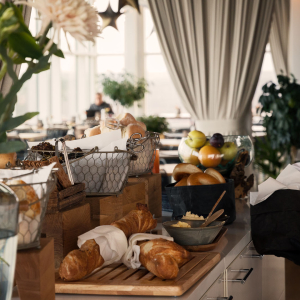 Imagine
– breakfast 100 metres above the ground
If you are staying in our sky rooms or suites, you can come and start your day at the top of our third tower. In addition to a breakfast buffet offering a great selection for the perfect start to your day, you can also order from a choice of hot breakfast dishes straight from the kitchen. And to top it all off: you can enjoy your morning coffee with the best view in the city.
Breakfast is always included for guests staying overnight at Gothia Towers.
Monday – Friday 06.30-09.30
Saturday – Sunday 07.00-11.00
Breakfast at Gothia Towers for non-residents
Even if you are not a resident at Gothia Towers, you are more than welcome to enjoy a delicious hotel breakfast. We have everything that a breakfast can offer and besides that a fantastic view from the 29th floor at restaurant Imagine. The price for this experience is SEK 235 and you book your table online:
Breakfast in your room
Looking forward to a long lie-in?
Sometimes breakfast in your room is just what you need. At Gothia Towers our room service breakfast is available from 07.00 to 10.30.
You can order breakfast to be served in your room through Room service and information on how you do you'll find in the hotel room.